March 2019

February was  a busy month at Kortright Hills. We had a variety of safety presentations, sports tournaments, as well as Pink Shirt Day for anti-bullying. We participated in sweater day by turning the heat down at school by 2 degrees to demonstrate how we can all conserve energy. We also offered many mental health/wellness workshops for our students. Ms. Broderick arranged many wonderful Live Free events to raise money for our snack program. 
March will be another busy month. Students are hard at work and are enjoying this time where they are focused on academics. The Juniors have an upcoming basketball tournament and the Intermediates will have a Dodgeball tournament at the end of the month. The band continues to meet and the Library is busy with those participating in Forest of Reading.
We have our fingers crossed that Spring is around the corner! With the upcoming changes in weather, please be sure to send your child/children with proper indoor and outdoor clothing.
On behalf of the staff, have a fantastic March Break with your family.
Sincerely,
Mr. Hussain & Ms. Woytko
Diversity Data Survey – March
This winter, the UGDSB is conducting a system-wide survey, to help the board understand the demographic makeup, diversity and ongoing needs of our student population. The sole purpose of this survey is to gain a better understanding of the students and families in our communities, so that the board can program effectively and provide the right supports for every student to achieve their full potential.
General info:
The online survey is voluntary and anonymous

The survey is open to all UGDSB staff, parents/guardians of students under Grade 4, and students in Grades 4-12+

A webpage has been set up with additional information and a Q&A at

www.ugdsb.ca/diversity-data
Complete the parent survey:
Please complete the parent survey at www.ugdsb.ca/diversity-data between March 4th to March 29, 2019
Parent Council
We hope you can join us for some of the excellent Parent Council lead events coming to the school and community in the next few months.  
Guest Speaker – Kelly Forester
When: April 2nd from 7:00 – 8:00pm KHPS Gym
Kelly Forster is Registered Dietitian who works within the field of Eating Disorder Treatment. Kelly will be speaking about supporting our children to eating well and enjoy food.
Why this is an important topic:
The frequency of eating disorders is rising among Canadian youth. It is important to be giving children positive messages about food, which lead to healthy living, both physically and psychologically. Parents, teachers and children are sometimes bombarded with messages regarding healthy eating, which are often contradictory and confusing.
In her address Kelly will discuss more than just nutrition, but also how to live in a world with an abundance of wonderful foods.
Save the Date!
Look out for more info soon about these upcoming events.  
Around the World/ Multicultural Night – May 7th – 5:30-6:30pm
Ice Cream Social – June 6th
Library Learning Commons Update
Our library continues to be a very busy place!  Several boxes of new books recently arrived, including a variety of fiction, non-fiction, and graphic novel selections.  Students have been enjoying the new titles. Thank you to School Council for continuing to support our library, as well as parents, students, and staff who support our Scholastic Book Fairs.  Our students and staff appreciate your support in allowing us to keep our library filled with engaging and up-to-date books for all grade levels.
Grade 4 – 8 students are working hard to prepare for the UGDSB Skills Canada Competitions on April 4th. We have 11 teams entered this year in the areas of Character Animation (Jr & Int), Construction Challenge (Int only), LEGO Mechanics (Jr & Int), LEGO Robotics (Jr & Int), Tech Challenge (Int only), TV/Video Production (Int only), and VEX Robotics (Jr & Int). Our Media Studio & Robotics kits will be well used over the next few weeks!
Blue Spruce voting & celebration information will be coming home after March Break for our Kindergarten – Grade 2 classes. The Blue Spruce parties have been tentatively scheduled for April 8th & 9th.
Forest of Reading programs will continue until late April for our Grade 3 – 8 students.  Students who are participating in the Forest of Reading programs are asked to please return books as soon as they have finished reading them so that other students have access to them too.  
We have multiple copies of each of the novels, but the program is very popular and we have over 150 students participating this year (Grades 3 – 8).  The books are also available through the Guelph Public Library and ebooks may be accessed through Overdrive on UG2GO (https://webapps.ugdsb.on.ca/ug2go/). If families wish to read the books together (shared reading or read aloud), that is absolutely encouraged!
To view the books for each program, please visit the library website Forest of Reading page.  Links to the blogs are also posted on the library website or can be accessed through UG2GO.
Kindergarten – Grade 2 bit.ly/BlueSpruceKHPS
Grade 3 & 4 bit.ly/SBExpressKHPS
Grade 5 & 6 bit.ly/SBFictionKHPS
Grade 5 & 6 bit.ly/SBNonfictionKHPS
Grade 7 & 8 bit.ly/RMFictionKHPS
Grade 7 & 8 bit.ly/RMNonfictionKHPS
Thank you for your continued support of our Library Learning Commons programs,
Sheila Morgan          sheila.morgan@ugdsb.on.ca
Teacher Librarian     Library Learning Commons Website: http://bit.ly/KHPSLLC
Anti-Bullying at KHPS
In an equitable and inclusive school climate, all members of the school community feel safe, comfortable, and accepted.  Staff and students value diversity and demonstrate respect for others and a commitment to establishing a just, caring society.  
An equitable, inclusive education system encourages and enables all students to learn and to fulfill their potential.
Staff will:
Provide a safe environment for students who report bullying (protection from retaliation).
Students will:
Treat each other respectfully.
Parents will:
Model positive ways of getting along with others.
This insert was taken from our Bully Prevention Plan. This can be found at:
https://www.ugdsb.ca/kortright/resources/bullying-prevention-plan/
Class Disruptions
It is a goal not to disrupt learning that takes place in classrooms.  If parents are bringing in something for their child(ren), please bring these items to the office with their name and grade on it. These items will be distributed at recess breaks throughout the day.  Parents picking up students are asked to come to the office and wait for their children to meet them.
Reminder about Parking
The front of the school is a very busy place between 8:30 a.m. and 9:00 a.m. and 3:15 p.m. and 3:35 p.m. Buses, cars and students are prominent during these times and parents are reminded to respect the safety measures that are in place. The parking lots of the school are not to be used as drop off points for our students during these hours.
Parking is available in designated areas along Ptarmigan Drive, Merganser Drive and Mallard Court. Parents are also reminded to have their children cross at the cross-walk at the front of the school, if they should be picking up on the other side of the street. We please ask that you not block anyone's driveway when picking up your child(ren).
Please choose safety over convenience! ​
Visitors to the School
If you are visiting the school or coming in to pick up your child we ask that you go to the office first and sign in.
Celebrate Earth Day on April 22nd!
Founded in 1990, Earth Day Canada inspires people of all ages across the country to connect with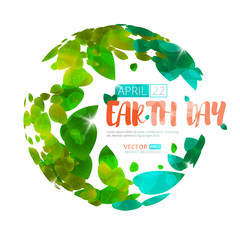 nature and build resilient communities as well as foster an intrinsically motivated, enduring commitment to stewardship and conservation. https://earthday.ca/about/
Earth Day 2018 Theme: End Plastic Pollution
From poisoning and injuring marine life to disrupting human hormones, from littering our beaches and landscapes to clogging our waste streams and landfills, the exponential growth of plastics is now threatening the survival of our planet. Earth Day 2018 is dedicated to providing the information and inspiration needed to fundamentally change human attitude and behavior about plastics. https://earthday.org
Ideas for your family to celebrate Earth Day:
Download your Plastic Pollution Primer to learn more about this problem and act to help End Plastic Pollution!
Spend a day outside. In the garden with your family, plant vegetables, trees or native flowers and attract native animals and pollinators. Or join a local community event to help clean your neighbourhood or restore local plant life.
Make commitments to cut down on your energy usage as well as waste. Turn lights off, power down electrical devices, turn down your thermostat and only do full loads of laundry and dishes. Always bring cloth bags when shopping, refuse to buy over packaged products, and lug a mug instead of using non-recyclable coffee cups.
Learn more about the environment and the effects of global warming. Encourage awareness and promote the Reduce, Reuse and Recycle way of life.
Remember that every day is Earth Day! Don't restrict yourself to just one day a year. Make environmental actions and caring about the planet a habit – on Earth Day and every day.
Talking About Mental Health: March 2019
Random Acts of Kindness
Did you know that there are scientifically proven benefits of being kind! That's right. Just the act of being kind has been shown to stimulate the same part of the brain as those who receive an act of kindness. The simple act of kindness can:
Reduce the stress hormone cortisol
Increase sense of positive mood and satisfaction
Help with physical health including lowering blood pressure
Increase sense of happiness
Increase feelings of "calm"
Improve the mood of somebody simply witnessing the act of kindness
Kindness is also something that is TEACHABLE.  Dr. Ritchie Davidson of the University of Wisconsin states that: "It's kind of like weight training, we found that people can actually build up their compassion 'muscle' and respond to others' suffering with care and a desire to help."
As a family, you can:
Make a conscious effort to recognize and say something kind about each other or someone else
Give everyone in the family sticky notes to leave kindness notes to each other around the house
Challenge everyone to do a random act of kindness every day for a week and have dinner time discussion about what everybody did that day
Make an effort to identify and appreciate kindness that has been received
The weather may not be "playing nice" with us here in Southern Ontario these last weeks but we can still give our brain and our mental health a winter "boost"!  So go out and notice kindness, receive kindness and give kindness this month.
Jenny Marino, Mental Health Lead
Follow me on Instagram @ugdsb_mental_health
Categories: News • Newsletter